---
---
When you buy more than 2,We'll give you an extra 8.99usd connector as a gift.The connector can connect two lightsabers together, It's very cool.

PACKAGE INCLUSION:
1 x handle1 x sword body1 x USB charging line1 x decorative winding belt1 x Six angle wrench in 7 font2 x?spare screwdrivers

PRODUCT PARAMETER:
Material: Metal(handle), pc(blade)
SIZE: Handle 27cm. blade 73cm,total length 100cm
Diameter:Blade2.5cm,handle3cm
Handle color: Silver, gray, black, gold, red, blue.
11 light colors: cold white, deep red, pink, red, orange, yellow, green, green, blue, purple, and ice blue.
Charging: USB fast charging
Battery capacity:1200mAh

1.The handle and blade can be moved,Pictures of dismantling products contact customer service personnel
2.The tube is very strong and can be used for struggle. If the pipe is broken, you can buy it back here.

HOW TO PLAY
Switch: short press start , long press 4 seconds to shut down .Switching light mode: after boot, short press switch light effect, then cycle.Light mode and switch: after boot, press 2 seconds to loosen , open or close the sword mode.When the sword is opened, touch lightly and switch the sword's light effect.Volume high school low switch: after boot, press 3.5 seconds to loosen , switch the voice loud, medium and small in turn.Light and color switch: after boot, press 3 seconds to loosen? to switch color.

CHARGE
connect the DC end of the charging line to the lightsaber charge hole, and the USB end are connected to the charging seat of the output parameter 5V1A of the equipment (adapter, PC, cell phone charger, etc.) with a USB port. When charging, the button aperture "breathe" starts to recharge, and the battery is filled with light. The charging time is usually 2-3 hours. The charging seats are different and charging time is different. This is a monochromatic light and light sword. The main blade can be detachable, and the other is not dismantled.

FUNCTIONAL DESCRIPTION:3 sets of sound effects.each set has the sound effect of the switch machine, the standby (background) sound effect, the swords effect, the sound effect, the sound effect, the switching sound effect, the low power sound effect and the charge effect.

Light effect:flame mode, full bright mode, high and low brightness regulation, breathing mode, heartbeat mode, flickering mode, explosive flashing mode spelling sword.

Volume regulation and mute mode:volume high school low regulation, mute function.

Memory function:light effect memory, sound effect memory.

WARNING:
The left and right screws of the handle of the hilt are fixed, and can be rotated.
The screws on the handle are used for fixing internal fittings. No dismantling is allowed.
Please do not charge the product with more than 5v-1A power supply.
The winding belt needs to be operated by yourself.
About Csnoobs
We have been trying to do something interesting since 2020, and that is to publish our short videos on Tiktok and Youtube.
During this period, more than two million people have subscribed to our channel, We are very honored for this.
We will not fail your trust, provide you with the best products and services.
FAQ
1.Is this a scam?
A.We can't imagine that so many people will ask this question.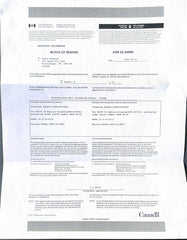 This is a notification document for the confiscation of our toy guns by the customs of different countries, the probability of being confiscated by customs is usually 2%.
Maybe the customs staff thought this gun was good, so they took it home and played with it.
2.What if your gun is seized by the customs?
A: We will refund you in full, click the link below to see the solution.
https://csnoobs.com/blogs/news/what-if-your-gun-is-seized-by-the-customs
.
3.How long will it take for my items to arrive?
A.General goods take 2-4 weeks and 3-7 weeks for toy guns.
Toy guns are very special products. Especially the toy gun with the appearance of a real gun.
They will be strictly examined by the customs.
4.Does Csnoobs have other online stores?
A: Not yet, We found someone using our brand to sell fake products, we have sued them, Please beware of fraud.
We promise
Free shipping and tax, no other hidden costs
Safe payments via Stripe®
30 Day Money Back Guarantee
Tracking number for every order
If you have any questions, please contact email: service@csnoobs.com
---